Chill chill cool cool mazhai oda Oru Noodles preparation ??
Hakka noodles
Ingredients:
Oil ,GG paste , onion, veggies (as u prefer)

U need boiled plain noodles (6-7minutes boil in hot water with drop oil and salt)

If egg need u can add or skip this ( fry t eggs as per yr quantity)

Sauce - soya sauce ,chill sauce, tomato sauce, vinegar - 1 TSP (if quantity more then add 2 TSP) vinegar 1tsp ok (adhuku Mela na pullipaa erukum)

first saute veggies in oil then put fried eggs and sauce's and boiled noodles with salt as per taste. Mix it well with high flame ?.. if u have add spring onion or else skip it.
??Now hot yummy sauce Hakka noodles ready to serve ?​
Always be simple in cooking and make dish yummy♥?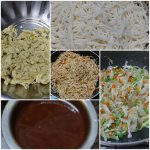 Last edited by a moderator: