Easy time save recipe ??


we love sandwich ever ??
I
NGREDIENTs
Need boil potato (u can add left over veggies anything)
Oil,Smash potato ,onion, curry leaves,chilli, jeera, salt garam masala,
Mix Well and cook keep aside
Grated cheese (u can add or skip)
Bread need
Melt t butter in tawa
Spread t masala and grated cheese over
Place it heat tawa
U don't need sandwich maker for it we can toast in tawa with heavy press over t bread (in pic)​
Yummy tasty sandwich ready to serve
?????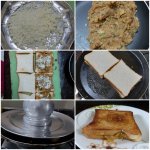 Last edited by a moderator: